Chances are you've heard of Kobalt air compressors before. It's no surprise, because the brand is owned by Lowes, the big box store with over 2000 locations. Since the Kobalt brand is backed by Lowes, it's easy to see why many people give these compressors a shot. But before you drop your hard-earned cash on one, we'll answer some common questions about Kobalt compressors. Read on to find out if Lowes (Kobalt) compressors are any good. 
Table of Contents
Are Lowes (Kobalt) Air Compressors Any Good?
Kobalt compressors are mainly good for use in the garage or home workshop for basic tasks and smaller air tools. Most of the Kobalt line of compressors are portable, although they do make larger non-portable compressors. They offer oil-free and oil-lubricated models, which increases your options. 
If you're looking to get a compressor that will see use for hours a day, five days a week, you'll probably want to look elsewhere. Kobalt compressors are cost-effective and, for home use, they're a good option. These Lowes compressors are available in a wide range of sizes and styles, including twin-stack, hotdog, and pancake. Their tank sizes range from two gallons all the way up to 80 gallons.  
Where Are Kobalt Air Compressors Made?
Lowes, like other box-store brands, doesn't make their own Kobalt compressors. Although the Kobalt brand is owned by Lowes, they outsource the building of the compressors. The companies they use change from time to time. So you could put two Kobalt compressors side by side and, although they might look similar and have the same brand name, they could be made by two different companies. 
As such, it's impossible to tell where exactly these compressors are made. Certain components are likely made in the USA, but others may be made in China. The assembly may take place in China or some other country. Lowes doesn't volunteer the information on where the compressors are made. Probably because this changes from time to time.
So where are Kobalt air compressors made? Your guess is as good as ours. We just don't know.  
Who Makes Kobalt Air Compressors?
In a sense, you can say that Lowes makes Kobalt air compressors. But answering the question of what company actually does the manufacturing is a different story. As mentioned above, the companies that make these tools for Lowes change over time. 
Many years ago, Campbell Hausfield made these compressors. Coleman-Powermate is said to have taken their turn making them. And more recent information suggests that Sanborn Compressors makes some components. 
Kobalt Company History
Kobalt was founded back in 1998 by Lowe's Companies, Inc. The idea behind this was to compete with the brands Husky and Craftsman, owned by The Home Depot and Sears, respectively. Kobalt makes hand tools, cordless power tools, and, of course, air compressors. These various tools are manufactured under the Kobalt name by different companies that change over the years. 
Types and Sizes of Kobalt Air Compressors
As of this writing, Kobalt offers 11 different types and sizes of air compressors. These range from small and portable to large and stationary. Let's take a look at them. We'll focus on capacity and SCFM, or Standard Cubic Feet per Minute. 
Small and Portable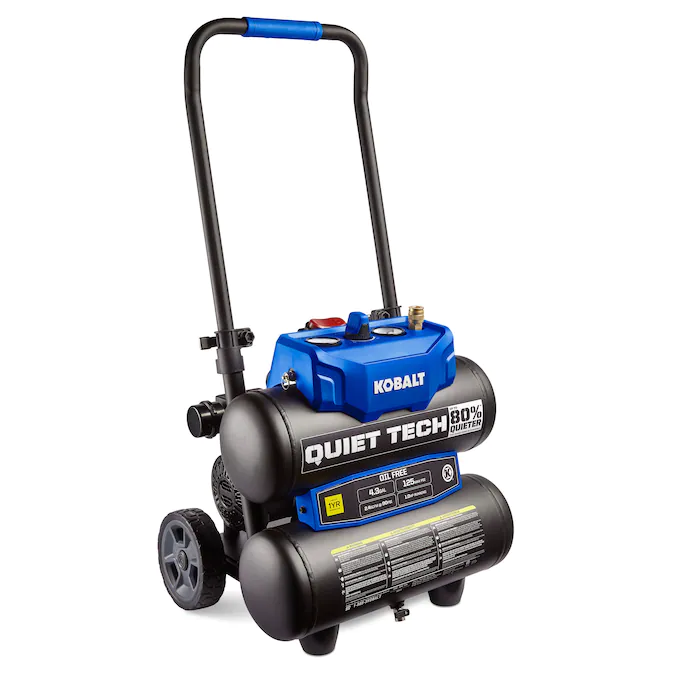 If you need an air compressor that's relatively small and lightweight, Kobalt offers models between 2-8 gallons. They range from 0.5-4 SCFM @ 90 PSI with HP ratings from 3/4-1.8. These smaller compressors are great for home use and for light work in the shop. Most of these models are oil-free as well meaning that maintenance is less of a chore.
Cost: $80-$230
Medium Sized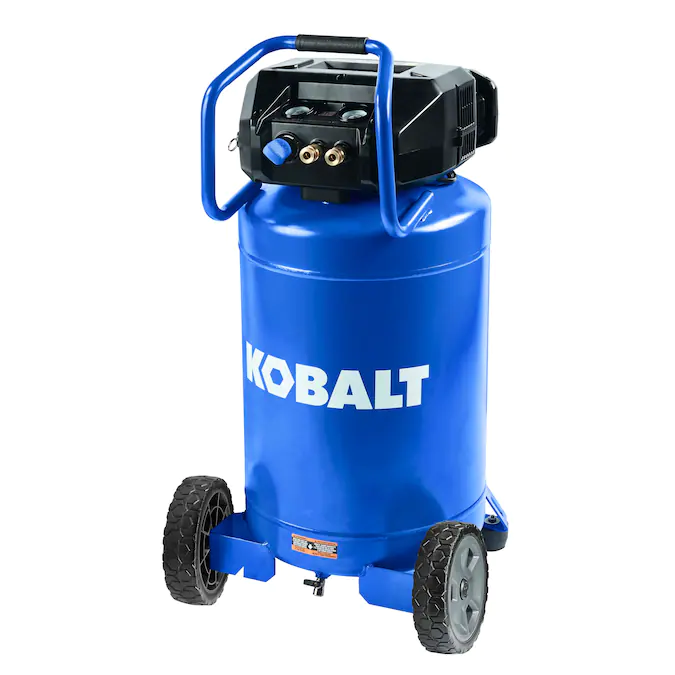 If you're looking for a mid sized air compressor Kobalt has models that range from 20-30 gallons. They range between 150-175 max PSI and up to 4.5 SCFM with a maximum of 2 HP. These air compressors are better suited for longer run times and more demanding air tools. They too are oil free, but they're also a lot heavier (82-178lbs) and louder (78db) than the previous category of air compressors mentioned.
Cost: $280-$590
Large and Stationary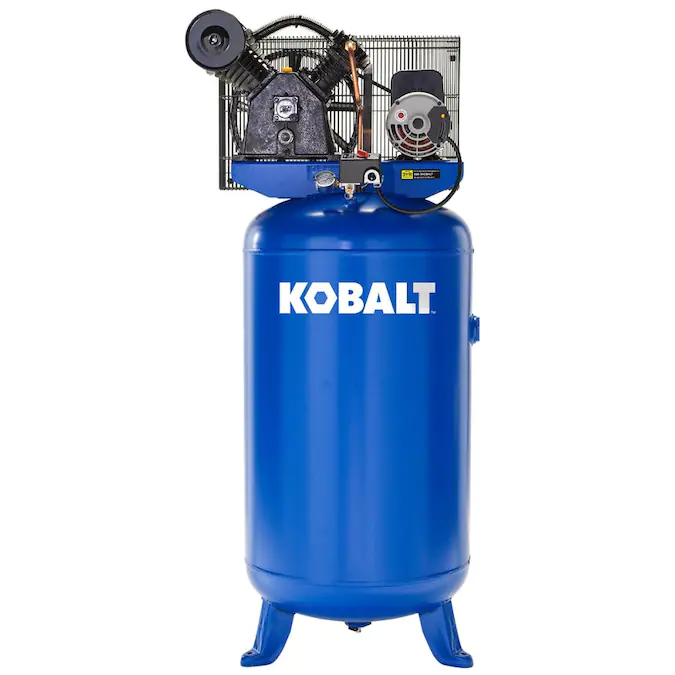 The largest model air compressors that Lowes (Kobalt) offers are 60-80 gallons. These compressors are capable of 7.6-11.9 SCFM @ 90 PSI and have HP ratings of 3.7-5 respectively. These models, however, are not oil free, so that is something to keep in mind if you're not great with preventive maintenance.
As far as noise is concerned, there's not much difference between these and the mid sized compressors (78db). However, weight is another story. Kobalt's 60 gallon model weighs 255lbs and the 80 gallon weighs 410lbs. You're definitely going to need some help getting these on and off your truck or trailer.
Cost: $530-$1000
Do Kobalt Air Compressors Have a Lifetime Warranty?
Kobalt compressors don't come standard with a lifetime warranty. Most models come standard with a 3-year limited warranty. This is one of the bad things about Kobalt compressors. They're a Lowe's brand, but Lowe's doesn't actually offer to fix any compressor that breaks down. 
Warranties on Kobalt compressors may vary depending on the seller, so it's a good idea to read the fine print before you purchase. These are very limited warranties, but you always have the option to purchase additional coverage if you decide to buy the item. 
What We Like and Don't Like About Lowes (Kobalt) Air Compressors
Now that we've covered what kind of compressor Lowes offers through the Kobalt name, let's break down what we like and don't like about these compressors. We'll start with the pros. 
What We Like: Kobalt Compressor Pros
Low Cost – Perhaps the best thing about Kobalt compressors is their price tag. These compressors don't carry the hefty price tag of other home-use air compressors. This makes them ideal for those on a budget who want a compressor they can use in the garage or the workshop. 
Quiet Operation – Many of the compressors Lowes offers in the Kobalt line are quieter than other compressors on the market. These smaller "Quiet Tech" compressors feature a noise rating under 70 decibels, which is very low for any air compressor. 
Wide Variety – The Kobalt line offers a wide variety of different compressors. This means you're sure to find a compressor that will fit your needs from Lowes, provided you need it for home use rather than industrial applications. 
Portable and Stationary – Whether you plan to move your compressor around or keep it in one spot, you've got options with Kobalt air compressors. Some models have wheels while others have carrying handles. The larger models are stationary. 
Oil-Free – Most of the small air compressors made by Lowes and Kobalt are oil-free, meaning you don't have to worry about checking or changing the oil. Other than some basic maintenance (like draining condensed water out of the air tank), these oil-free compressors are easy to care for. 
Trusted Brand – Since Kobalt is made by Lowes, you can rest easy knowing that they're backed by a trusted brand. But it's also important to consider the cons, which we'll cover below. 
What We Don't Like: Kobalt Compressor Cons
Price Equals Quality – While the price of these Kobalt compressors is low, the quality also leaves something to be desired. That's why these are best for occasional home use. There are more expensive compressors on the market that are better for those who will be using their compressor more than a few times a week. 
In Case of Repairs – As we mentioned above, Lowe's doesn't offer repair services for Kobalt compressors. You usually have to find a third-party repair shop to take on the job, unless whatever is wrong with the compressor falls under the warranty or any extended coverage you bought. In which case, you'll need to take it to an authorized dealer or, if none is available, will get the compressor replaced by Lowes. 
Only Meant for Occasional Use – If you're looking for a compressor to use for several hours at a time, several days a week, these smaller Kobalt options aren't your best bet. With continual use, these compressors have been known to wear down quickly. 
Are Lowes Air Compressors Worth It?
Lowes Kobalt compressors are certainly worth it if you're looking for a compressor to use around the house on an occasional basis. The low price tag of these compressors makes them ideal for those on a budget who still want a mid-range compressor to use for filling tires and for use with some basic air tools. 
Best Kobalt Air Compressor for Home Use
Kobalt Quiet Tech 4.3-Gallon Air Compressor
This Kobalt air compressor features a 4-pole induction motor with dual pumps. It's one of the "Quiet Tech" compressors, which is an excellent selling point for those who don't want to disturb the house or the neighbors with a loud compressor. It has a decibel rating of 60, and you'll be hard pressed to find a quieter compressor that can deliver the SCFM that this one can. 
Best Kobalt Air Compressor
Features
Delivers 2.4 SCFM @ 90 PSI and 2.3 @ 100 PSI
Great for Use Filling Tires, Sports Equipment, Inflatables, Air Brushing, Bolting, Brad Nailing and Stapling, Framing Nailing and Finish Nailing
4.3 Gallon Tank
150 Max PSI
1 Horsepower Induction Motor
Oil-Free for Low Maintenance
Features Regulator and Quick Coupler for Ease of Use
2 Gauges – 1 for Tank Pressure and 1 for Outlet Pressure
Twin-Stack Design Allows for More Air Capacity in a Compact Compressor
Rubber Wheels and a Handle for Easy Transport
Kobalt Air Compressors FAQ's
What is Kobalt Tools, and do they make air compressors?
Yes, Kobalt Tools is a house brand sold exclusively at Lowe's stores. They offer a range of power tools, including air compressors, which are manufactured by other brands.
Who makes Kobalt Air Compressors?
Kobalt air compressors are manufactured by a variety of companies, including Campbell Hausfeld. The specific manufacturer for each Kobalt model can be found in the owner's manual or by searching for the model number online.
How do I find replacement parts for my Kobalt air compressor?
You can find replacement parts for your Kobalt air compressor by searching for the model number online or contacting the manufacturer directly. Additionally, Lowe's stores may carry some replacement parts for certain models.
What is the drain valve on a Kobalt air compressor, and how do I use it?
The drain valve is a small valve located on the main tank of the air compressor that is used to release any moisture or condensation that has accumulated inside the tank. To use it, simply open the valve and let the water drain out. It is important to do this regularly to keep your compressor in good shape.
Are Kobalt air compressors considered reliable tools?
Kobalt air compressors are generally considered to be good compressors and reliable tools. They offer a range of models with various features, including heavy-duty models with brushless motors and adjustable pressure settings. As with any tool, proper maintenance and mid-use checks are important to keep the compressor in good shape.