If you ever shop at Home Depot, you've probably seen Husky brand tools and air compressors on display. They offer hand tools with a lifetime warranty, but they also offer power tools as well. These are generally made for home use, but you can bet that some contractors use Husky tools on a daily basis. And if you're in the market for an air compressor, you may be wondering about the Husky brand. Well, you've come to the right place. In this article, we'll dive into the truth about Home Depot (Husky) air compressors. 
Table of Contents
Are Home Depot (Husky) Air Compressors Any Good?
Home Depot (Husky) air compressors are consistently well-rated. They sell large ones and small ones, oil-lubricated ones and oil-free ones. No matter what kind you look at, you'll find that they're good for most home uses and even some commercial uses. 
But that doesn't mean that Husky compressors are without their flaws. They're limited in their uses, and aren't generally designed for constant use. But if you're looking for a compressor that you'll use for no more than a few hours at a time, Husky could be the right brand for you. 
Where Are Home Depot (Husky) Air Compressors Made?
As of this writing, it seems that Husky Air compressors are made mostly in China and India. This kind of outsourcing is common for many air compressor companies and serves to keep the prices low. This is one reason why Husky air compressors are available at the low prices they are. 
However, it's important to keep in mind that the manufacturing country often changes when outsourcing like this. And not all components are made in the same place. There could be certain components made in Mexico while others are made in China. 
What's clear is that Home Depot (Husky) air compressors aren't made in the USA. 
Who Makes Home Depot (Husky) Air Compressors?
You would be forgiven for thinking that the Husky parent company Home Depot makes these compressors. They do not. Instead, it seems that the American-based company Campbell Hausfeld is currently contracted to make Husky compressors. 
Whether Campbell Hausfeld uses the exact same overseas facilities to make Husky compressors that they do to make their own is unclear. It's likely that they do use the same facilities, but we're not exactly sure. 
The way the globalized air compressor business works, it's likely that another manufacturer will take a turn making Husky compressors, eventually. 
Husky Company Information
Husky was formed in 1924 in Milwaukee, WI, as Husky Wrench. Just four years later, Husky Wrench had a deal with J.H. Williams Tool Group to include their wrenches in the mechanic's set that they sold. In 1929, the company was sold to Olsen Manufacturing Company, which changed its name to the Husky Corporation. 
Husky was sold a few more times over the years. In 1986, The Stanley Works bought the company as part of its acquisition of National Hand Tool, which had bought the company in 1980. By 1992, Stanley was making Husky tools exclusively for The Home Depot. They subsequently sold the naming rights to Home Depot. 
Husky Air Compressor Warranty Information
Home Depot (Husky) air compressors come with a standard 2-year limited warranty for defects in material or workmanship. This means you can take your Husky compressor back to any Home Depot store with your receipt within 2 years of purchase and have it repaired or replaced for free. 
They will try to repair the compressor first. If they can't make the repair, they'll replace it. The warranty doesn't cover misuse, issues caused by normal wear-and-tear, or damage caused by incidents. The warranty only lasts for 90 days if you use the compressor for commercial work or rent it out. 
Do Home Depot (Husky) Air Compressors Have a Lifetime Warranty?
While many Husky hand tools have a lifetime warranty, the same can not be said for their air compressors. In fact, it's rare to find a compressor with a lifetime warranty. Instead, they come with a standard 2-year warranty as outlined above. 
Types and Sizes of Home Depot (Husky) Air Compressors
Now let's take a look at the available options offered by Husky. First, we'll discuss sizes, and then we'll discuss other major differences you may be interested in. 
Small

The Home Depot Husky compressors that fall in the small size range start at 1-gallon and go up to 4.5-gallons. The larger of these have wheels for easy transport, but most of them are small enough to be carried around easily. They offer between 0.8 SCFM @ 90 PSI and 3 SCFM @ 90 PSI. They offer a max PSI between 135 and 175. And their HP ranges from 0.5 to 1.3. 
Cost: $150 to $240
Medium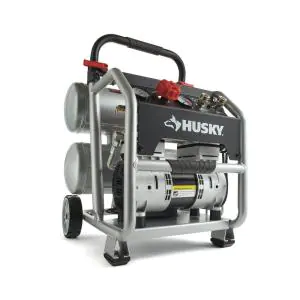 For medium-sized compressors, Husky offers sizes from 8-gallons up to 27-gallons. They all have large wheels, so you can move them around easily. They are capable of delivering between 3.7 and 5.1 SCFM @ 90 PSI. They have a max PSI rating between 150 and 200. The HP ratings for these compressor motors are between 1.3 and 1.8. 
Cost: $130 to $500
Large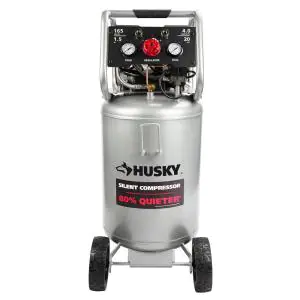 The largest models that Home Depot offers in their Husky line range from 30-gallons up to 80-gallons. The 30-gallon models have wheels, but the larger ones do not. They're able to deliver between 5.1 and 15.1 SCFM @ 90 PSI. The max PSI ratings for these compressors is between 155 and 175. They offer between 1.7 and 5 HP motors, depending on the size. 
Cost: $325 to $1800
Oil-Lubricated and Oil-Free
Among the sizes mentioned above, you'll find that some Husky air compressors are oil-lubricated while most of them are oil-free models. The oil-free models are best for home use because it means you don't have to worry about changing or topping off the oil. For more on the difference between these two models, read our article on Oil vs Oil-Free Air Compressors. 
"Silent" Husky Compressors
You'll also notice that some Husky compressors are "silent" compressors. They come with a sticker stating that they're "80% quieter" than other comparable models. If noise is a concern for you, choosing one of these compressors is a good idea. However, keep in mind that they're not actually silent. They're just a bit quieter than many other compressors. 
Are Home Depot (Husky) Air Compressors Worth It?
Husky air compressors are worth it if you're looking for a reliable compressor for home use. Handling the occasional heavy-duty job with one of these compressors is fine, but constant use for jobs that demand consistent airflow for hours at a time can cause these compressors to overheat. 
If you remember what we discussed in the warranty section above, you'll get a good idea of what these compressors are good for. If you recall, the warranty only lasts for 90 days when you use the compressor for commercial work. This is indicative of what these compressors are made for: home use.
How they'll be able to tell the difference, I'm not sure. But when a company offers a 2-year warranty for home use and a 90-day warranty for commercial use, it's an indication that the company knows the limitations of its compressors.  
What We Like and Don't Like About Husky Air Compressors
As we said above, Husky air compressors are good, but they're definitely not perfect. In this section, we'll take a look at the pros and cons of Home Depot (Husky) air compressors. 
What We Like: Husky Pros
Easy to Move – One thing we like about Husky compressors is their high portability. That is, they all have high-quality wheels or are small enough to move with just the built-in handles provided. This makes them great for people who need a compressor that won't be sitting in one spot all the time. 
Quiet Options – While not all the Husky air compressors are quiet, they do offer a "silent" option in nearly every size range. And when you're using a compressor at your home, a difference of ten or more decibels can be the difference between happy and angry neighbors.  
Wide Selection – There are certainly plenty of options to choose from when it comes to Husky air compressors. They offer models in a wide range of sizes, not to mention offering them with oil-free or oil-lubricated pumps. You're sure to find one that will work for you among their wide selection. 
Easy Warranty Service – In the unlikely event that something happens to your compressor during the warranty period, it's very easy to get it checked out. After all, it's a Home Depot product. So you can just return it to Home Depot with your receipt and let them either repair or replace it if the issue falls under the 2-year limited warranty. 
Quick to Fill – Husky compressors are known for quick filling times. This helps you avoid downtime waiting for the tank to recharge. It keeps you working on the task at hand without interruption for most tasks. 
Trusted Backing – Many people know and trust Home Depot. And, by extension, they know and trust the Husky brand. On top of that, well-known air compressor manufacturer Campbell Hausfeld makes these air compressors. That's two well-known names behind these air compressors. 
What We Don't Like: Husky Cons
Expensive Larger Models – There seems to be a big price jump between larger and smaller models. This seems a little strange and there's no clear reason for it. Just keep this in mind if you're looking to buy one of their larger compressors. 
Not for Prolonged Use – Husky air compressors aren't ideal for prolonged use. By this, we mean things that require constant airflow, like spray painting or sanding for hours at a time. The motors have been known to overheat with prolonged use. 
Not Made in the USA – Currently, Husky compressors seem to be manufactured by Campbell Hausfeld, which is a well-known, US-based company. However, that doesn't mean that these compressors are made in the USA. They're generally made in China or India. 
Best Home Depot (Husky) Air Compressor for Home Use
If after reading this review of Husky air compressors you think this brand will do well for you, we've got a suggestion! The best Home Depot (Husky) air compressor for home use is this 1-Gallon Portable Electric Silent Air Compressor. This small compressor is great for things like filling up tires, powering small air tools, and cleaning up. It only weighs 27 pounds, delivers 0.8 SCFM @ 90 PSI, and has a max operating PSI of 135. It has an amazingly quiet decibel rating of only 60 when used outdoors. It has a built-in handle for easy transport and an attached bag for tool storage. 
Features
A0.5 HP Motor and Low RPM for Long Life
Oil-Free, No-Maintenance Pump
0.8 SCFM @ 90 PSI & 1.3 SCFM @ 40 PSI
Quick Coupler for Ease of Use
135 Max PSI
Quiet 60 Decibel Noise Rating
Only Weighs 27 Pounds
2-Year Limited Warranty
Reinforced Frame to Protect Pump and Motor
Includes Attached Tool Bag
Home Depot (Husky) Air Compressor FAQ's
Who owns Husky air compressors?
Husky air compressors are owned by the Home Depot Corporation, which is a large home improvement retailer with locations throughout the United States and Canada.
Home Depot owns a variety of brands, including Husky, and offers a range of products for home and commercial use. Husky air compressors are designed and manufactured exclusively for Home Depot, which allows the brand to offer quality air compressors at an affordable price.
Are Husky air compressors suitable for heavy duty jobs?
Husky air compressors are capable of powering air tools for a variety of jobs, including heavy duty jobs in commercial construction and automotive repair. While they may not be as powerful as some independent brands, Husky air compressors are a good option for those looking for an affordable and reliable compressor for occasional use or home garage storage units.
Campbell air compressors and other brands may be more suitable for professional use or for longer periods of operation, but Husky air compressors are still capable of handling most air tool's rating requirements.
What types of air compressors does Husky offer?
Husky offers a variety of air compressors, including portable and stationary models with various horsepower, tank sizes, and CFM ratings to suit different needs. They also offer oil-free and oil-lubricated models.
Can I buy Husky air compressors online?
Yes, you can buy Husky air compressors online from the Home Depot website. They offer free delivery or pickup at your nearest Home Depot store. You can also use the Home Depot Consumer Card to finance your purchase and get special financing offers.
Do Husky air compressors come with a warranty?
Yes, Husky air compressors come with a warranty that covers defects in materials and workmanship for a specified period of time, depending on the model. The warranty information can be found in the product manual or on the Home Depot website.
Husky offers a 90-day satisfaction guarantee on all of their products, so if you're not satisfied with your purchase, you can return it for a full refund within 90 days of purchase.