Makita is a tool company that you've probably heard of before. They've been responsible for some impactful inventions that have brought convenience and innovation to the tool world. And while their air compressors aren't the cheapest out there, they are considered some of the best and most reliable. So let's dive in and tell you everything you need to know about Makita air compressors. 
Table of Contents
Are Makita Air Compressors Any Good?
Makita compressors are well-rated and generally considered to be high-quality products. These compressors are known for being powerful for their size, making them ideal for use both at home and on the job site. Many models can provide more cubic feet per minute than other models of comparable size. 
Makita is known for their small but powerful compressors, getting the attention of those who need to perform work all around multiple job sites with a variety of air tools. They're good for DIY enthusiasts who are looking for a powerful air compressor with which they can use a wide range of air tools that other small air compressors can't handle. 
Who Makes Makita Air Compressors?
Makita compressors are made by the Makita company at factories around the world. The Japanese company has factories in many countries, including The United States, Germany, Thailand, Brazil, Mexico, and the United Kingdom, among others. 
Unlike other compressor companies that outsource their production, Makita makes their own compressors in their plants around the world. So while two identical compressors may have been made in different parts of the world, the quality control Makita is known for helps ensure that both compressors are identical in performance, quality, and workmanship. 
Makita Company Information
Makita was founded in 1915 in Japan by Mosaburo Makita. It began as a company selling and repairing electric motors, lighting equipment, and transformers. In 1958, the company released their first power tool, which was an electric planer. Soon after, they released an electric circular saw and an electric drill. 
In 1978, Makita released their first cordless power tool, which was a drill. It featured more power, longer run times, and a shorter charge time than other cordless drills on the market. They launched their first air compressor in 1981. By 1985, Makita had expanded and established the Makita Corporation of America, located in Buford, Georgia. 
By 2009, they had brought the world's first 18V brushless motor impact driver. They have been known for quality tools ever since, and have expanded to many countries over the years.   
Where Are Makita Air Compressors Made?
As mentioned above, Makita does manufacturing in many parts of the world. However, most air compressors come from Japan. That's not to say that some aren't made in other parts of the world, such as Mexico, Thailand, or China.
Luckily, Makita comes with a warranty and a 30-day guarantee, which we'll discuss below. These two factors can give you confidence in purchasing one of their compressors. They're also a testament to the quality control practices each Makita tool goes through before leaving the factory. 
Makita Warranty Information
Makita air compressors are covered by a 1-year limited warranty. Essentially, the warranty states that if you have any problems with the compressor during the year after purchase, you can return the compressor (prepaid) to Makita. They'll take a look at it and determine if the problem is due to a fault with the design, manufacturing process, or workmanship. Then they'll either repair or replace the compressor. 
Makita also provides a 30-day satisfaction guarantee. This means you can return the compressor for any reason within the first 30 days for a replacement or a full refund. 
Do Makita Compressors Have a Lifetime Warranty?
Makita compressors do not have a lifetime warranty. It's actually very rare for a compressor to have a lifetime warranty, as there are a lot of moving parts and they are only able to perform for a certain number of hours. 
Types and Sizes of Makita Air Compressors
Most of the Makita air compressors are on the small but powerful side. They don't make big stationary compressors. They mainly stick to ones used on construction sites and for home use. 
Small
There are several options from Makita for small and portable compressors. These range in size from 1-gallon up to 3 gallons, with a 1.6-gallon and a 2.6-gallon compressor in there for good measure. They have motors from 0.5 to 2.5 HP and can deliver anywhere between 0.7 SCFM and 3.3 SCFM @ 90 PSI. Their max PSI ranges from 130 to 400.  
Medium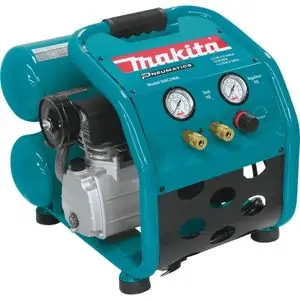 The medium compressors Makita offers are 4.2 and 5.2-gallons. They have a 2.5 and 3 HP motor, respectively. The 4.2-gallon compressor is capable of delivering 4.2 CFM @ 90 PSI and the 5.2-gallon is capable of 6.5 CFM @ 90 PSI. They have operating pressures of 130 and 140 PSI. 
Large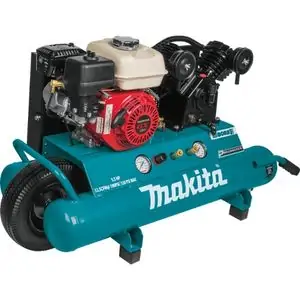 The large compressor Makita offers is a 10-gallon twin-tank gas-operated compressor. It features a 5.5 HP motor and delivers 12.5 CFM @ 100 PSI. It has a wheel and a carrying handle so you can move it around as you like. 
What We Like and Don't Like About Makita Air Compressors
Now that we've covered Makita compressors from a high-level view, let's take a closer look at them by exploring what we do and don't like about these compressors. 
What We Like: Makita Pros
Power – If you know anything about air compressors, you'll know that the Makita compressors listed above are powerful. They deliver much higher CFM than other compressors of similar size — and some even larger ones. This is one of the best things about Makita compressors: you can get a powerful compressor that's not overly large. 
Portability – Makita specializes in small compressors, which means they're all highly portable. Most of them are small enough to be carried around by hand. Those that aren't have wheels for easy transport. 
Reliability – Experts and DIY-ers alike have great things to say about Makita compressors working day in and day out without any problems. They're reliable, which is just what you need from a compressor. 
30-Day Guarantee – The 30-day guarantee that comes standard with most Makita tools is a nice perk. It essentially means that you can try the compressor out without worrying that you bought the wrong thing or you. If you find that it's not to your satisfaction, you can return it for a refund or exchange it. 
Big Bore™ – The Big Bore™ technology that Makita uses means faster recovery times. Essentially, they use larger pistons and cylinders than other compressors, which means they can compress more air on every stroke. This also helps to make them quieter thanks to lower RPMs and allows for greater efficiency. 
What We Don't Like: Makita Cons
Oil-Lubricated – Most of the Makita compressors available are oil-lubricated. This is both a pro and a con, depending on your views. It's a con because it means you need to stay on top of changing the oil and topping it off if it gets low. Oil-free compressors require little to no maintenance, which is a plus for many. 
Heavy – Reliability and power come at a cost in Makita compressors. And that cost is weight. These compressors are heavy duty. Most of them are made out of cast iron and feature a roll cage to protect them on the job. This makes them pretty heavy, even if they are relatively small. 
Small Tanks – Since most of the Makita air compressors are small, they may not be ideal for those who need a continuous flow of air. And while they do have a quick recovery time, you may not want to stop your work even for a few minutes to wait for the compressor to recharge. 
Best Makita Air Compressor for Home Use
Makita truly does make a great compressor. And the best of them for home use is the Makita MAC2400 Big Bore™ Air Compressor. It's a 4.2-gallon compressor with twin-stack tanks for quick recovery. It features a 2.5 HP, 4-pole motor that's capable of 4.2 CFM @ 90 PSI, which is amazing for a compressor of this size. It has a roll-cage, making it ideal for use on the job or in the shop. It doesn't draw a lot of amperage, which reduces the instances of tripped breakers during start up. It's also relatively quiet with a decibel rating of 79. 
Features
Cast Iron Pump
Big Bore Cylinder and Piston for Fast Recovery and Excellent Performance
4.2-Gallon Twin-Stack Tanks
Oil-Lubricated Pump
Two Couplers
4.2 CFM @ 90 PSI and 4.8 CFM @ 40 PSI
Roll Cage to Protect the Compressor
Industrial Air Filter
Runs at Lower RPM for Longer Life and Greater Efficiency
130 PSI Operating Pressure
1-Year Parts and Labor Warranty
30-Day Guarantee
Makita Air Compressor FAQ's
What is the best Makita air compressor for small tasks?
The Makita MAC100Q is an excellent option for small tasks such as airbrushing, inflating pool toys, and powering smaller pneumatic tools. It is a portable air compressor with a small footprint and a tank capacity of 1 gallon. Its oil-free pump requires less maintenance and has a long life. Additionally, the MAC100Q is a quiet compressor, with a noise level of 59 dB, making it perfect for indoor use.
Can Makita air compressors operate quietly?
Yes, Makita offers a range of quiet compressors, including the MAC2400 and the MAC5200. These compressors are designed to operate at a lower noise level than many other air compressors on the market, making them ideal for use in environments where noise is a concern. For instance, the MAC2400 has a noise level of 79 dB, while the MAC5200 has a noise level of 90 dB.
What is the maximum pressure of a Makita air compressor?
The maximum pressure of a Makita air compressor varies depending on the model. For instance, the MAC2400 has a maximum pressure of 130 psi, while the MAC5200 has a maximum pressure of 140 psi. This maximum pressure is an important consideration for anyone who needs to use a compressor to power high-pressure tools or inflate large items such as car tires.
Can Makita air compressors be used to inflate air mattresses and pool toys?
Yes, Makita air compressors can be used to inflate air mattresses and pool toys, as well as to inflate car tires and other pneumatic tools. Some Makita models, such as the MAC700, are specifically designed for inflating tires and sports balls, while others are more suited to powering power tools and larger pneumatic equipment.
What is an oil-free pump in a Makita air compressor?
An oil-free pump in a Makita air compressor means that the pump does not require oil for lubrication, which makes it less messy to operate and maintain. Additionally, an oil-free design ensures that there is no risk of oil contamination in the compressed air. Makita's oil-free pumps are also designed to last longer and require less maintenance than pumps that use oil.
Are Makita air compressors portable?
Yes, Makita offers a range of portable air compressors, including cordless and pancake air compressors. Cordless air compressors are particularly popular because they do not require a power outlet and can be used in remote locations. Pancake air compressors are lightweight and easy to move around, making them a great choice for anyone who needs to use a compressor in different locations.
What is the CFM rating of a Makita air compressor?
The CFM rating of a Makita air compressor is an important consideration when choosing a compressor. The CFM rating measures the volume of air that the compressor can deliver per minute. For instance, the MAC2400 has a CFM rating of 4.2 at 90 psi, while the MAC5200 has a CFM rating of 6.5 at 90 psi. Both of these models have a high CFM rating, which makes them suitable for powering a range of power tools, including nail guns, spray guns, and sanders.