If you're looking for a new compressor, or perhaps even your first one, you probably have a list of brands in mind. There are several well-known names in the business of making and selling air compressors. But just because a brand is well known doesn't mean it's good. And to take it a step further, even if a brand is good, it doesn't mean that they have a compressor that will fit your needs. To help you decide which compressor is right for you, we're tackling the DeWalt brand in this article. Read on to learn what you need to know about DeWalt compressors, and if they're any good. 
Table of Contents
Are DeWalt Air Compressors Any Good?
DeWalt is a brand trusted by many, and their air compressors are certainly top sellers. When it comes to quality and performance, they are above average. Since they're owned by Black & Decker, you can expect their machines to be similar to other brands under the company name, such as Porter-Cable and Craftsman. 
If you're looking for a solid compressor backed by a well-known company, you can rest easy knowing DeWalt is a good option. 
Who Makes DeWalt Air Compressors?
As mentioned above, DeWalt is owned by parent company Stanley Black & Decker. So you could say that Black & Decker "makes" DeWalt air compressors. But if you're trying to determine what factory they're made at, the answer is not so simple. It's hard to tell who actually makes DeWalt compressors. 
Like many other air compressors that you see for sale at big box stores, it seems that DeWalt doesn't make their own compressors. That is, they likely outsource the parts manufacturing to third-party organizations around the world and then assemble them in the US. This is pretty common for other compressors under the Black & Decker parent company. 
But, keep in mind that this is all conjecture. There's just not a lot of information volunteered about who exactly makes DeWalt compressors. Many of them say something like "Assembled in the USA from Global Materials." But this tells you little about where these global parts were made, and who did the making. 
DeWalt Company Information
DeWalt is an American-based company that was founded after Raymond DeWalt designed and built a woodworking machine in 1922. Raymond DeWalt is credited with inventing the radial arm saw, and his company's first major product was the "Wonder-Worker," which was a woodworking machine that could be configured in nine different ways. 
This Pennsylvania-based company saw expansion in the 1940s as they made products for the war effort. In 1960, Black & Decker bought DeWalt. The company made a name for itself over the decades, and launched a line of portable power tools in 1992 as a rebranding effort to position DeWalt as a seller of hand tools for contractors. In 2000, DeWalt purchased the Emglo Compressor Company. 
Where Are DeWalt Air Compressors Made?
DeWalt air compressors don't have a country of origin you can point to with certainty. Like many other compressors made under parent company Stanley Black & Decker, DeWalt compressors are usually assembled in the USA using materials manufactured in other parts of the world. 
While it's hard to say for certain, these manufacturing plants are likely located in China or Mexico. China is the most likely place where these "global materials" are made. Wherever they come from, they're generally shipped to the USA and assembled into the final product you see on the store's shelves.  
That's said, there are seven places here in the US where some DeWalt tools are assembled. It's important to keep in mind that not every DeWalt product, including their air compressors, is made in the USA with global materials. Only those packages/descriptions that specify this are assembled in the USA. 
DeWalt Warranty Information
DeWalt offers two different standard warranties on their air compressors. One is a 1-year limited warranty that also includes 1 year of free service, and a 90-day money-back guarantee. The other is a 3-year limited warranty, 1 year of free service, and a 90-day money-back guarantee. 
Do DeWalt Compressors Have a Lifetime Warranty?
DeWalt does not offer a limited lifetime warranty on any of their compressors. However, the 3-year limited warranty is pretty good compared to the standard 1-year warranty that other comparable compressors have.
Since there are two different standard compressors, it's important that you verify the warranty on the specific compressor you want. If a 3-year warranty is important to you, make sure that the compressor you're considering does feature this longer warranty instead of the shorter one. 
Types and Sizes of DeWalt Air Compressors
DeWalt offers a wide range of air compressors. They have many available, so the chances are you'll be able to find one that fits your needs under the DeWalt brand. Here's a broad overview of the different types and sizes of DeWalt compressors available. 
Small and Portable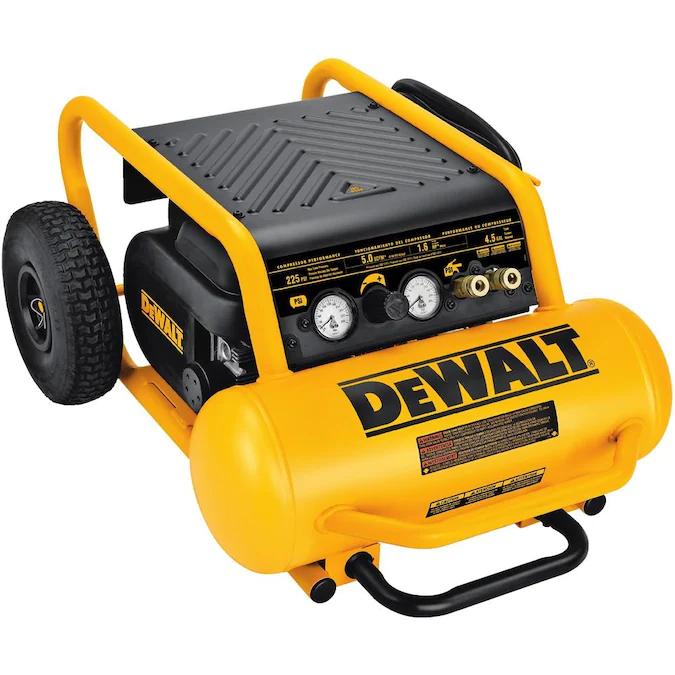 DeWalt offers seven different small and portable air compressors. These range in size from 1 gallon up to 4.5 gallons. The smallest among them delivers 0.57 SCFM @ 90 PSI, and has a peak HP of 0.3. It also has a max PSI of 135. The largest of these small and portable compressors is capable of delivering 5.0 SCFM @ 90 PSI, which is pretty good for a 4.5-gallon compressor. It has a 1.6 HP motor and a max PSI of 225. The other compressors offer capabilities in between these two. 
Medium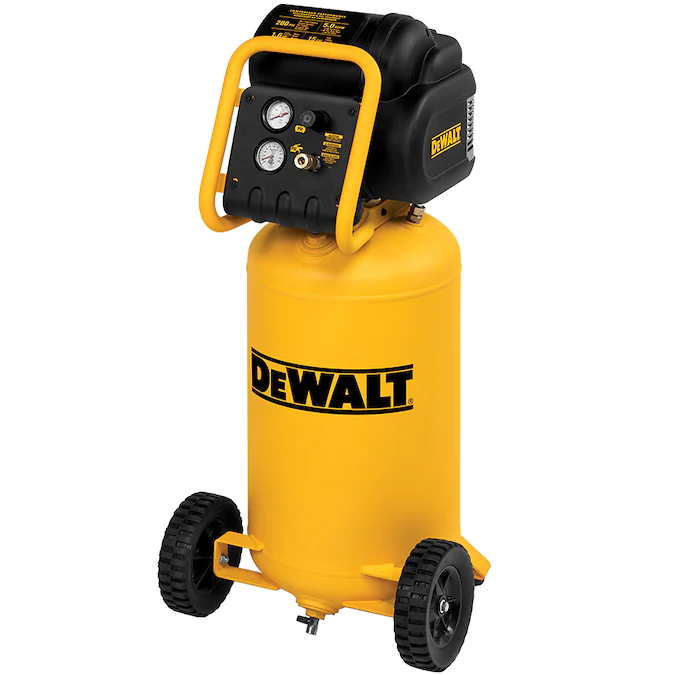 The five medium compressors DeWalt offers are also made with wheels, so they're somewhat portable. These range in size from 6 gallons up to 15 gallons. The smallest medium compressors on this list are capable of delivering 2.6 SCFM @ 90 PSI with a max pressure of 195 PSI. The largest of DeWalt's medium compressors are capable of 5.0 SCFM @ 90 PSI and feature a max pressure of 225 PSI.  
Large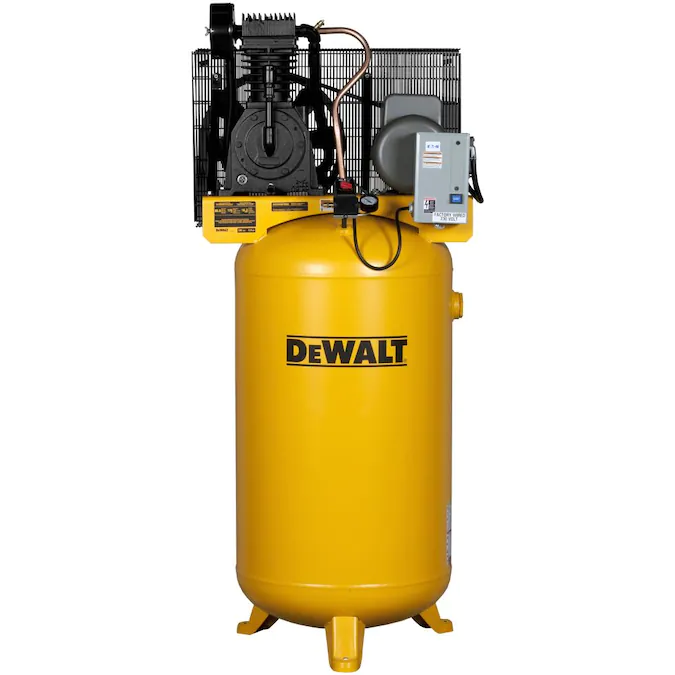 The larger compressors come in a variety of sizes ranging from 20 gallons up to 120 gallons. Some of these come with wheels, so they're not strictly stationary. The larger ones on the list are stationary. They're capable of delivering between 5.7 and 35 SCFM @ 90 PSI. Their peak HP ranges from 1.6 to 10. And they're available in oil-lubed and oil-free models. 
What We Like and Don't Like About DeWalt Air Compressors
Now let's cover some of the pros and cons of DeWalt air compressors. Read on to find out what we like and what we don't like about these air compressors. 
What We Like: DeWalt Pros
Powerful – DeWalt makes many small but powerful air compressors, which is something lacking from other comparable companies. And while not everyone needs one of these, the fact that they're available is a definite plus and a testament to the DeWalt brand. 
Low Noise Levels – As a whole, DeWalt compressors are quieter than some other brands. There are some specific models that are designed for quiet operation, but even those that aren't specifically designed this way operate at a lower decibel level than those of comparable price, size, and capability. 
Lightweight and Durable – DeWalt's compressors are a good mixture of lightweight and durable. Too light can mean poor quality in an air compressor, but DeWalt seems to strike a balance between the two, delivering machines that last long but aren't overly heavy. 
Quick Recharge – DeWalt air compressors are known for their quick recharge times. If you often use air tools that require a constant flow of air, a DeWalt compressor can provide fast recharge times so you don't have to put up with too much downtime. 
Good Warranties – Many DeWalt compressors come with 3-year warranties, which is great for air compressors of this price range. They also come with 1 year of free service and a 90-day money-back guarantee. 
What We Don't Like: DeWalt Cons
Air Leaks – The most common complaint among users of DeWalt air compressors seems to be air leakage after the compressor has been used for a while. This is often reported after a few years of use, and is only common among a small percentage. 
Customer Support – Dealing with DeWalt's customer support is not the most pleasant experience. It can be frustrating, according to some. They make good on their warranties, but it often takes some time to get things sorted out. 
Price – DeWalt compressors have a slightly higher price point than others you'll find at big box stores. But this could be due to the 3-year warranty that some air compressors come with. 
Best DeWalt Air Compressor for Home Use
After careful consideration, we've decided to recommend this top-rated DeWalt air compressor for all-around home use. It's a 6-Gallon DeWalt Pancake Compressor that has a max PSI of 165 and delivers 2.6 SCFM @ 90 PSI. It features a long run time and a quick recovery so your work isn't interrupted. It's relatively quiet for a pancake compressor and features an oil-free pump so you don't have to worry about pump maintenance. It's highly portable and is ideal for use on roofs, in small spaces, in the garage, or in the home shop. 
DeWalt Air Compressors FAQ's
What are the different types of DeWalt air compressors available?
DeWalt offers various models of air compressors that cater to different needs and requirements. Their portable air compressors are compact and easy to transport, making them ideal for DIY projects or small jobs.
Their corded air compressors are powerful and efficient, designed to provide reliable and consistent air pressure for prolonged use. The new Flexvolt cordless air compressor is the latest addition to their range and has revolutionized the market by providing a portable, battery-powered alternative to traditional air compressors.
Are DeWalt air compressors high quality?
Yes, DeWalt is widely regarded as a manufacturer of high-quality air compressors. Their products are built to withstand harsh conditions and heavy use, making them a popular choice for professionals in various industries.
DeWalt air compressors are made with advanced components and innovative features that ensure they are reliable and long-lasting. Additionally, the company has a reputation for providing excellent customer service and support, making them a trusted brand among consumers.
What makes DeWalt air compressors stand out from other air compressor manufacturers?
DeWalt air compressors stand out from other manufacturers due to their advanced components, features, and accessories that make them ideal for high-demand applications. DeWalt products are designed to withstand harsh environments and heavy use, ensuring reliable and consistent performance.
They also offer a range of accessories such as air hoses, fittings, and regulators that are compatible with their air compressors, providing a comprehensive solution for all your compressed air needs.
Has DeWalt made any recent posts about their air compressors?
Yes, DeWalt regularly releases ad reports and other marketing materials that highlight their latest air compressor models and the various equipment and accessories that come with them.
These posts often provide valuable information on the features and benefits of each product, as well as tips for using and maintaining your air compressor.
Are DeWalt air compressors manufactured in-house or outsourced to other companies?
DeWalt air compressors are manufactured in their own manufacturing facilities as well as in partnership with other equipment manufacturers such as Ingersoll Rand and Atlas Copco.
This approach allows DeWalt to leverage the expertise and technology of other companies while maintaining strict quality control over their products. It also ensures that DeWalt air compressors are built to the highest standards of quality and performance, regardless of where they are manufactured.